Mother calls for better maternity care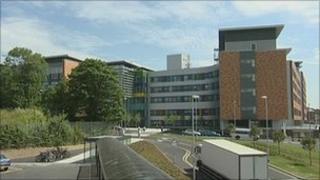 A mother has called for better maternity care in a Hampshire hospital after she said she was left in a bloody bed after giving birth in March.
Amiee Stitt said she was admitted to the The Queen Alexandra Hospital in Cosham, Portsmouth, but was not seen until her baby's birth was imminent.
Mrs Stitt said: "I was just left in a ward with no-one around. They missed the fact that I was in labour."
The hospital has apologised and said more support would be available.
Mrs Stitt, from Southsea, said: "I kept buzzing for help and said I was losing blood and having cramps but they weren't that interested.
"I felt like I was annoying them a bit. When the nurses did come they were very helpful, but they were just too busy. There's not enough of them.
"Me and my daughter are fine now but others might not be so lucky."
Gill Walton, head of midwifery at The Queen Alexandra (QA) Hospital, said: "She sounds like she didn't have a nice experience and I apologise for that, but sometimes it gets very busy and we have to prioritise for safety reasons."
She added that the hospital was recruiting 14 more maternity support workers to help new mothers immediately after the birth of their child, as well as changing the model of how the area's midwives operate.
QA's maternity ward deals with 6,000 births a year and has 113 midwives. An additional 90 midwives who work in community-based birth centres in Petersfield, Gosport and St Mary's, will now be called into the hospital to help if needed.
Mrs Walton said the changes were about ensuring the midwives "are in the right place at the right time".