Southampton social workers extend strike action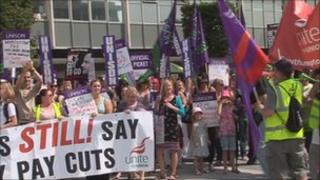 Social workers in Southampton have voted to extend their strike action over cuts to council staff pay.
Unions said hundreds of staff had staged a one-day walk-out on Wednesday while 50 fostering and adoption workers were expected to stay on strike for a week.
Conservative-run Southampton City Council called the action "very wrong".
At a mass meeting, more than 300 social care staff voted to strike again on Wednesday, 10 August.
The dispute is over the introduction of new contracts, which have forced workers earning more than £17,500 to take a pay cut of up to 5.5%.
Workers earning less than £17,500, which is 41% of the workforce, will receive an extra £250 a year.
More than 99% of the council workers signed the new contracts on 11 July.
'Safety ensured'
Workers are also unhappy about the council's decision to pay £1,400 "market supplements" to a limited number of social care staff in compensation for the cut in wages.
Unions have already met council officials to discuss minimum emergency staffing levels to ensure the safety of vulnerable children and adults during the strike,
However, regular visits and case meetings are being disrupted.
Mike Tucker, from Unison said: "The decision was taken by professional, experienced staff and they wouldn't take any action which would put their clients at risk.
"There is a very strong sense of grievance among social workers in the city."
Jeremy Moulton, deputy leader of Southampton City Council, said: "I think we are making progress but I don't think strike action is at all helpful.
"It's very wrong as you are talking about the most vulnerable people - children and adults.
"We want to keep people in work delivering services but sadly there is a massive political dimension to this."
Toll collectors, parking officers, bin collectors, library staff and street cleaners have all been on strike during the past two months.
In February, councillors finalised budget cuts of £25m and said all workers earning more than £17,500 would see their pay reduced.