Thief who stole amputee's life savings to pay back £1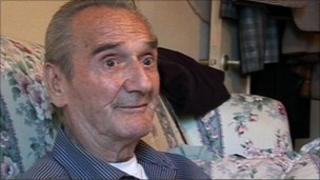 A disabled man from Portsmouth has told of his anger after a thief who stole his life savings then spent them on drugs was ordered to pay back just £1.
Micky Evans was left penniless when £9,000 was snatched from the front of his mobility scooter outside his home.
The retired dock worker, 71, who has an inoperable tumour, an amputated leg and suffers from Parkinson's, had planned to pass the money on to his children.
Heroin addict Paul Cox, 43, was jailed for two years and nine months in March.
Mr Evans told how he had taken the cash to his bank after watching a television programme about fake £20 notes.
'Down in dumps'
"I took the money to the NatWest bank in Portsmouth as I was worried the notes may be dud but they said they weren't, so I left with it", Mr Evans said.
Mr Evans was spotted by Cox in the bank who followed him to his home in Arundel Street, Landport.
He said: "I had the key in the front door when someone asked me for directions - the next thing I knew he'd taken money out the basket of my mobility scooter.
"I didn't think this could happen to me. I was really down in the dumps. I still think about it every day, but life has to go on."
Some of the money Mr Evans was saving came from compensation he received after contracting asbestosis from working in Portsmouth Dockyard.
Cox was arrested after being caught on CCTV following Mr Evans. He had denied the theft but changed his plea on the day of his planned trial.
Cox was ordered by a judge to pay Mr Evans back £9,000, but the amount was reduced to just £1 when it was found Cox had spent all of the stolen cash.
Mr Evans said: "I was mad when I heard he just had to pay back £1 - it shows up the legal system.
"They said Cox can offer more when he gets a job but he hasn't enough character about him to get work.
"I've worked all my life - shovelling mud on the docks, taking asbestos from the ships."
Asked how he would survive financially, Mr Evans said: "I'll just have to on my disability benefit."
"I just hope that one day something like this happens to Cox as he's left me penniless," Mr Evans added.
A fund has been set up by a local newspaper for readers to raise money for Mr Evans.
Det Con Chris Dineage, of Hampshire Police, said: "To have this happen to him has just knocked the wind out of him.
"It was his life savings he was saving for his family who live in Newcastle.
"The money will go to help bring his family to him so he can share the next few years with them."