Southampton City Council 'error' in paying strike staff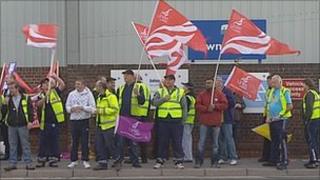 Some striking Southampton City Council staff have mistakenly been paid wages.
A "administrative error" meant some street cleaners received one or two weeks' pay they were not entitled to.
The council has apologised for the inconvenience and says it will work with staff and the unions to find a fair way for the money to be repaid.
Street cleaner Steve Chivers said: "Some people weren't aware those monies were for wages. So now they've got a debt which they didn't know about."
The council is investigating exactly how many of the street cleaning team, made up of about 50 people, are affected.
Toll collectors, parking officers, bin collectors, library staff and street cleaners have all been on strike during the past two months.
They have been joined by social workers who first went out on strike on Wednesday.
The dispute is over the introduction of new contracts, which have forced workers earning more than £17,500 to take a pay cut of up to 5.5%.
Workers earning less than £17,500, which is 41% of the workforce, will receive an extra £250 a year.
In February, councillors finalised budget cuts of £25m. The council has said that reducing wages will prevent more jobs having to be cut.
More than 99% of the council workers signed the new contracts on 11 July.