Mini statues of Charles Dickens on show in Portsmouth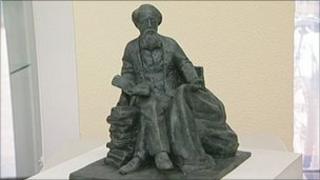 Four miniature statues of Charles Dickens are on display at the Portsmouth Central Library.
One will be chosen for a 7ft (2.1m) high statue of the writer to stand in Portsmouth's Guildhall Square.
The statue will be completed to coincide with the 200th anniversary of Dickens' birth in Portsmouth.
He was born in Portsmouth on 7 February 1812 where he spent the first three years of his life before moving to London and then Kent.
The house in which the most popular English writer of the Victorian era was born, 1 Mile End Terrace, has been a museum dedicated to him since 1904.
Request in will
There is not believed to be any statues of Dickens in the UK, due to him requesting in his will: "I conjure to my friends on no account to make me the subject of any monument, memorial or testimonial whatsoever."
The author has two known statues in his honour, in Philadelphia in the US and Sydney, Australia.
The project by the Dickens Felllowship, has the backing of the Dickens family.
His great-great grandson Gerald Dickens said it was the "perfect time" to remember him, despite the wording of Dickens' will, which was a reaction to the over-elaborate memorials of Victorian times.
Speaking in February, he said: "We are of the opinion that in that particular part of the will he was very much talking about the immediate aftermath of his death and the arrangements for his funeral, which he didn't want to be ostentatious in any way.
"In Victorian England the the type of statues and monuments erected were massive, huge, unbelievable garish monstrosities.
"I can't believe that he as a person wouldn't want people to be able to celebrate and remember his life and, much more importantly, his works and the work he did from those novels."
Organisers say they have already raised a third of the £120,000 needed to fund the statue.
'Myth created'
Prof Tony Pointon, of the Dickens Fellowship, said: "As the greatest novelist in the English language, Dickens will be honoured by a statue in England, and his descendants are unanimous in their belief that he would be proud and humble that it is to be in the city of his birth.
"In Dickens' will he laid down five conditions for his funeral - it should be inexpensive, there should be no special mourning, he should have a plain grave stone, the time and place of his funeral should not be made public and there should be no monument, memorial or testimonial.
"From that, some people have created a myth that his will said he never wanted a statue for him."
The public are being invited to view the shortlisted designs currently on display.
The winning design will be selected by a panel of local officials and Dickens experts on 16 August.