Hampshire Police to track Southampton riot threat culprits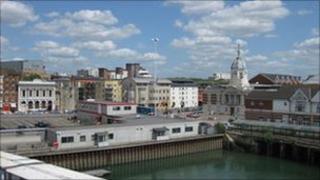 No incidents of violence or disorder were reported in Hampshire overnight despite threats of rioting in Southampton on social media sites.
Some shopkeepers in Southampton's city centre closed their shutters on Tuesday afternoon amid unfounded rumours of trouble, but they were soon reopened.
Hampshire Police said it was aware of threatening social media messages and would "track down" those responsible.
The force had told residents via Twitter and Facebook to "stay calm".
Hundreds of residents tweeted about the rumours of disorder in Southampton, following on from rioting in London and other English cities.
'Vigilant and aware'
Extra police patrols are in place in case of any trouble.
Supt Steve France-Sargeant said: "We would ask parents also to help us keep the communities safe by making sure you know what your children are doing online.
"If you are a resident or a business user of Southampton you need to be vigilant and aware but not unduly frightened.
"We cannot allow issues in London to effect our quality of life and we cannot allow irresponsible mischief makers to ruin our standard of living.
"I hope we all agree that we should stand together in not allowing our city to be vandalised, our businesses and employees to be financially damaged and the reputation of Southampton to be unduly soiled by individuals who simply want an excuse to damage and steal."
Hampshire Constabulary also sent officers to assist the Met Police with the rioting in London.
Ch Supt Karen Manners said the deployment of officers to the capital would not affect policing strength across Hampshire and the Isle of Wight.