Hampshire family tried to kill grandfather for £400,000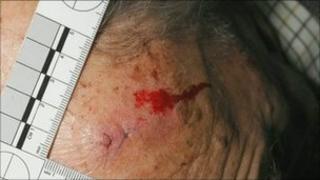 Relatives of an elderly man have been convicted of trying to kill him in a bid to get their £400,000 inheritance.
A 48-year-old mother from Eastleigh, helped by her three children and son's girlfriend, hit the 89-year-old with bricks. He survived the attack.
A jury at Winchester Crown Court found four of the defendants guilty of conspiracy to murder.
One defendant, the woman's youngest daughter, was cleared of the charge, but found guilty of malicious wounding.
Legal restrictions mean none of the family can be named.
During the case the court heard how the woman, her two daughters and son and his girlfriend, ambushed the grandfather in his front garden in November 2010.
'Horrific injuries'
The court heard how they had also made earlier attempts to kill him using methods looked up on the internet, including trying to blow up his car by tampering with the fuel line and battery.
The court heard the attack was carried out by the man's adopted daughter, her 19-year-old son and his girlfriend.
The mother's two daughters, who were of school age, also played a significant part in the attack, the jury was told.
The family members involved in the attack all drove to the grandfather's house in a village near Winchester, lured him outside and attacked him, the prosecution said.
Pictures of the man's "horrific" injuries, which included black eyes and head wounds, were shown to the jury.
The court also heard the family called 999 after the attack, reporting the grandfather had fallen, but paramedics quickly realised it was an assault and all five defendants were arrested at the house.
Det Sgt Bryan Carter, of Hampshire Constabulary, said: "Obviously it's shocking a family can do this to someone who is related to them but it appears to a crime motivated entirely by greed and nothing else.
"Again, it's shocking that children so young could be involved in a crime of this magnitude."