Soldier added to Lee-on-the-Solent war memorial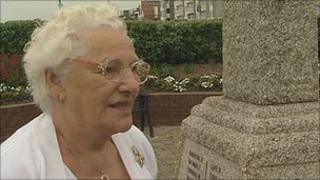 The name of an soldier killed in Malaya in 1950 is being added to a memorial in his home town in Hampshire.
Cpl Philip Bryant, 25, from Lee-on-the-Solent, was buried in the jungle after his Dakota plane crashed.
His sister, Vicky Betsworth, recalled how the family was "devastated" and has campaigned to have him recognised.
Councillor Graham Burgess said: "It is good to know that future generations are aware that all those who gave the ultimate sacrifice are remembered."
'Solent boy'
The memorial at Lee-on-the-Solent already contains the names of servicemen killed in the two world wars, but Gosport Borough Council said it wanted to know the names of others killed in conflicts since but whose names have not yet been recorded.
Cpl Bryant is one of two men whose names will be added to the memorial. The other is Petty Officer David Briggs who was killed while serving on HMS Sheffield in the Falklands conflict in 1982.
Mr Burgess said: "If you had a family member who lived in Lee-on-the-Solent and who was killed in the defence of their country, in any conflict, and their name has not yet been recorded on the memorial, then please contact me with details."
Cpl Bryant had fought in and survived World War II. He re-joined the army and had been posted to Asia for the Malaya Emergency.
Mrs Betsworth said: "It should have been done a long, long time ago. He was a Solent boy - I can't tell you what it means to me now, it's just wonderful."
Along with other family members, she plans to travel to Kuala Lumpur in Malaysia in February to pay her respects to her brother. She said: "It's last thing I'd love to do - the final chapter."