Coastguard busy with Cowes Week sailing event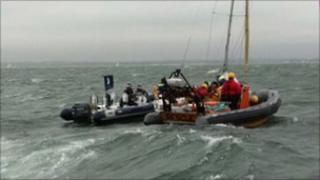 Coastguards looking after the waters around Hampshire and the Isle of Wight have been inundated with calls from vessels taking part in Cowes Week.
Rescuers carried out three simultaneous evacuations as three Mayday messages came within minutes of each other.
One man had to be winched from a yacht by a helicopter after hitting his head on the boom of a yacht at 12:30 BST.
Another fell overboard the yacht Addiction and was transferred to a lifeboat after 30 minutes in the water.
He and another man, who had also suffered a head injury while on board the yacht Chenapan, were met at Trinity Landing in Cowes and transferred to St Mary's Hospital on the Isle of Wight.
On Wednesday, coastguards responded to a number of similar calls - one woman suffered a suspected broken wrist after the yacht she was on collided with another vessel.
Another man was knocked out and suffered a head injury but could not remember how, although coastguards believe he may have been hit by the boom on his yacht.
Coastguards and lifeboat crews, which have laid on extra patrols during the sailing regatta, have also responded to numerous calls of yachts dis-masting, engine failures, broken rudders and people falling off vessels.
A watch officer at Solent coastguard said the number of instances had been exacerbated by a spell of bad weather on Thursday morning.