Mother and son jailed for grandfather murder bid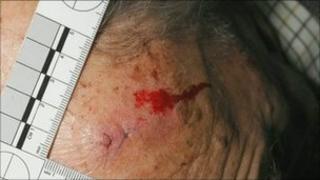 The daughter and grandson of an elderly Hampshire man have been jailed for plotting to kill him for his money.
The 48-year-old woman and her son, 19, were part of a family plot to kill the 89-year-old for £400,000 by hitting him with bricks. He survived the attack.
The woman, along with her daughter, son and his girlfriend were all convicted on Wednesday of conspiracy to murder.
She was jailed for 17 years while her son was given an indeterminate term in a young offenders institution.
The woman's other daughter, the youngest of the five defendants in the six-week trial at Winchester Crown Court, was convicted of a lesser charge of malicious wounding and will be sentenced next month along with the two other girls.
Legal restrictions mean none of the defendants can be named.
Jailing the 19-year-old earlier, the judge said he must serve at least seven-and-a-half years before being considered for release.
'Horrific injuries'
The elderly man, who suffered from dementia and lived with his wife, was attacked at his bungalow in a village near Winchester, Hampshire, in November 2010, by family members trying to get their inheritence early.
During the trial the court was told that the accused had previously tried to scare the man to death by smashing a window at his home. Family members also cut the fuel line of his car to try to make it explode.
The jury was shown pictures of the man's "horrific" injuries sustained in the brick attack which included black eyes and head wounds.
The court also heard the family called 999 after the attack to report that the grandfather had fallen but paramedics quickly realised it was an assault and the five defendants were arrested at the house.
Sentencing the pair, Mr Justice Foskett called the plot "despicable and inhuman" and said the plot "will defy belief in the minds of any right-thinking person".