Churchwarden sworn in on HMS Ocean off the Libyan coast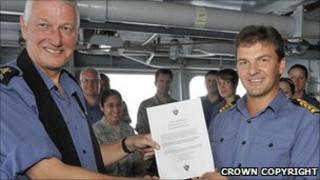 A Hampshire churchwarden has been sworn in while commanding the Royal Navy's largest warship off the coast of Libya.
Unable to attend the Archdeacon's ceremony, Capt Andrew Betton, of Holy Trinity Church, Wonston, was sworn in on the ship's quarterdeck.
He made his pledge at a service by the Reverend Bernard Clarke, witnessed by the helicopter carrier's congregation.
The Captain of the 800-crew ship has been churchwarden of the small rural parish church for the past 10 years.
He said: "It was wonderful that I was able to be legally admitted into office as a churchwarden even whilst at sea.
"The church is central to village life and it has been a great privilege to serve as churchwarden."
Exceptional circumstances
Parish churchwardens are sworn in each year at a ceremony carried out by Archdeacon Michael Harley.
The Venerable Michael Harley said: "It was clear that Andrew was unable to fulfil the necessary legalities of the swearing-in ceremony, so we thought we should find a way to make it happen."
The Church was able to secure the necessary agreements and legal requirements under exceptional circumstances.
"Here is a wonderful example of the Church being able to adapt - even when it involves a Royal Navy ship on active service on the high seas."
HMS Ocean left Plymouth at the end of April as part of the NATO-led operation in support of the United Nations Security Council Resolution to protect Libyan civilians during the unrest in their country.