'Lost' lichen found after over 100 years near Andover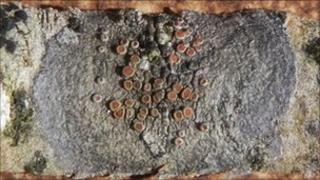 One of the UK's rarest lichens has been rediscovered in a field in Hampshire.
Before the discovery at Goodworth Clatford, near Andover, the lichen, which has an orange disc-like fruit, was thought to be extinct in the UK.
It was found growing on a twig by Neil Sanderson from the Hampshire and Isle of Wight Wildlife Trust during biodiversity survey work.
The last recorded sighting of Caloplaca Haematites which resembles a vol-au-vent was 122 years ago, the trust said.
Mr Sanderson said: "I'm thrilled to have made this discovery of a small but beautiful lichen known to the Victorian pioneers of the study of lichens but long thought to have been extinct in Britain."
The lichen, which is a cross between a fungus and an algae, was found growing on a twig of a white poplar tree near the River Anton.
It was last collected from fruit trees and white poplar twigs in Cambridgeshire, South Devon and Worcestershire but had not been seen 1889.
Also referred to as "firedot lichens", conservationists feared it had been wiped out due to a decline in traditional orchards and air pollution.
The rediscovery was verified by Dr Brian Coppins, a lichenologist at the Royal Botanic Garden, Edinburgh.