Houseboat tenants 'forced to move' from Bembridge home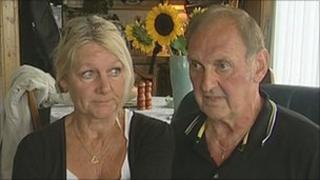 A couple who have lived in a houseboat on the Isle of Wight for 20 years say they are being forced to leave their home after they lost a legal bid.
Chris Mew and Sue Atkins live on a converted World War II landing craft in Bembridge Harbour.
The Court of Appeal upheld a county court ruling that their home is not classified as a "dwelling house".
The developer which owns the mooring site says the couple are free to move their boat.
Mr Mew said that option was not open to them as their boat no longer floats and could break up if a crane was used to lift it.
He has been paying an annual rent fee since they moved in, first to the parent company of Bembridge Harbour, where the boat has been positioned for more than 70 years, and more recently to new owner Tristmire Ltd.
Of the 26 other houseboats in the harbour, 21 bought a 99-year lease in 2003.
But Mr Mew and Ms Atkins said they could not afford to buy their plot, which was then bought by Tristmire Ltd along with three other plots.
Waiting for eviction
Tristmire said it had offered to continue letting the sites to the houseboat owners.
But they rejected that and instead argued "that the houseboats had become affixed to the land by annexation and they had the right to remain in them as dwellings under the law relating to houses".
The firm said it had no option but to fight that claim in court.
The courts ruled in favour of Tristmire, which can now evict the couple, as they have no protection under the Housing Act.
The firm has now offered to sell long-term lease of the mooring to the couple for £110,000, or they will put it on the market.
Mr Mew said: "I'm retired, Sue's nearly retired and we can't possibly raise that sort of money to do that so we are totally in their hands.
Ms Atkins said: "We've put a lot of work into this and somebody just wants to come and take it off us to make a profit - it's wrong.
"They've left us destitute, it's as simple as that."
In a statement the company said: "The houseboats have always been chattels in the ownership of their owners. That remains the case today and they are free to remove them.
"The sites on which there were moored were not permanently let to or acquired by them and were always in the ownership of the land owner."