HMS Warrior sickbay restoration completed in Portsmouth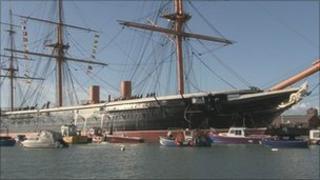 The 150-year-old warship HMS Warrior, moored in Portsmouth, is reaching the end of a 30-year restoration project.
Launched in 1860, it was the most powerful vessel in the Royal Navy - the first iron-hulled, armoured warship to be powered by steam as well as sail.
A £60,000 restoration of the ship's sickbay, lasting three years, has been the final stage of the project.
Archivist Andrew Baines said: "It's fantastic news for HMS Warrior and the Historic Dockyard."
'Close to losing her'
The pride of the Royal Navy in the Victorian era spent most of the 20th Century slowly rotting away in Pembroke Dock until a committee chaired by the Duke of Edinburgh took on the task of restoring it.
Mr Baines said: "We came incredibly close to losing her - she had spent 50 years as a fuelling pontoon.
"It was only the fact she had managed to hang on in that role until the 1970s when people were starting to be interested in ship restoration, that she was available to be saved."
HMS Warrior was towed from south Wales to Hartlepool for the start of the restoration project in 1979, which continued when the ship was moved to Portsmouth in 1987.
Facilities in the Victorian sickbay were state-of-the-art with the navy seeking to ensure the crew on board the expensive warship stayed as healthy as possible and any casualties were treated effectively by its surgeons.
The restoration team was able to use a detailed plan of the ship which had been drawn by a 14-year-old crewman, Midshipman Murray, when carrying out the work.
A furniture maker in Gosport was responsible for recreating the wooden fittings, a local blacksmith made the cast-iron bunks and contemporary medicine bottles and instruments have been used to make the display as authentic as possible.
The sickbay will be revealed on National Treasures Live with Dan Snow and Sian Williams live BBC One on Wednesday at 19:30 BST.
It will be open to the public from Thursday.