Plan for 2,000 new homes on Winchester fields refused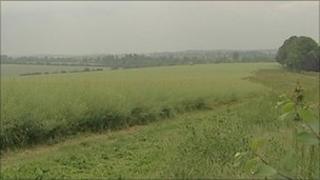 Plans to build 2,000 new homes on the edge of a Hampshire city have been blocked by the government.
Cala Homes has wanted to develop the 230-acre site in Winchester - known as Barton Farm - since the late 1990s.
Residents objected, saying the city's roads, schools and services could not cope with so many new homes.
The council has already voted against the plans and now the communities secretary has upheld that decision, following a public inquiry.
The planning inspector had recommended the plan for approval after the inquiry but minister Eric Pickles overturned the decision and concluded that the matter must be decided locally.
It comes after regional housing targets were scrapped, with the government pledging to hand decision-making powers back to local authorities.
Steve Brine, Conservative MP for Winchester, said: "This is a victory for common sense and the thousands of people who have consistently said 'no' to development on this site.
"I hope Cala will respect this decision and accept it with good grace."
The Save Barton Farm campaign had fought against the plans, saying the development would create a "new suburb".
Campaigners said there were many other suitable sites that could be developed on a smaller scale and not on green-field land.
Mr Brine added: "Ultimately it's about the sort of place we want Winchester to be and a judgement call as to when the city has extended far enough into its famous landscape setting.
"Local people are best placed to make that judgement call and we are clear this is not a sustainable development in the best interests of Winchester.
"But we shouldn't for one moment delude ourselves that Winchester's housing problems have gone away.
"The Barton Farm decision, assuming it stands, will have serious implications for many other parts of the Winchester district and councillors, as well as the rest of us, should now be prepared to face some difficult decisions."
Cala Homes has said the development is the most sustainable solution to Winchester's need for more houses.
It would not comment on the decision until it had assessed the situation.
Councillor George Beckett, leader of the city council, said: "We are pleased the secretary of state upheld our arguments made at the appeal.
"He is quite right that this should be a local decision. However, there will now be some challenging questions for Winchester."