Hampshire sees flooding after heavy rain fall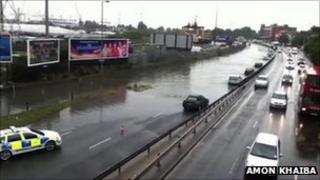 Roads have flooded across Hampshire following a day of heavy rain.
Areas affected included Basingstoke, Southampton, Winchester, Ringwood and the New Forest.
Widespread flooding hit the services at Sutton Scotney on the A34 dual carriageway.
The Met Office said the M3 corridor was still likely to see heavy rain throughout the evening. Neighbouring Dorset was hit by flash flooding.
A motorcyclist and passenger were treated by paramedics in Burley, in the New Forest, when they came off the motorbike and it ended up submerged.
In Southampton, Paynes Road and Millbrook Road were closed because of water coming through the manhole covers.
'Die out'
In the Basingstoke area, the B3440 Whitchurch to Overton road and the A339 at Wolverton were flooded, along with Stockbridge Road at North Waltham and Pack Lane at Oakley.
The Environment Agency said there were no flood warnings in place in the area as the rain had only caused a build up of surface water and had made little impact on river levels.
A spokesman for the Met Office said the rainfall had been "significant" but was only concentrated in certain areas so places around them had avoided the downpours.
"It will start to die out this evening and tonight," he said.
"Tomorrow it will be drier across the whole of the UK and we will actually see some fine weather."
Hidden dangers
Hampshire Constabulary said it had received a steady stream of calls during the afternoon about flooding on roads across the county.
Six Hampshire Fire and Rescue Service fire engines were sent to Dorset to assist crews there.
The fire service said it was operating as usual in Hampshire and warned people and motorists not to attempt to walk or drive through flood water.
"Even shallow water moving fast can sweep you off your feet and there may be hidden dangers such as open drains, damaged road surfaces, submerged debris or deep channels; these can cause serious injuries or even death," a spokesman said.
"Children should not be allowed to play in flood water, which can become contaminated with sewerage and chemicals.
"Do not smoke, eat or drink whilst in contact with floodwater and always wash your hands afterwards."