Riots: Hampshire Police spent up to £400k helping Met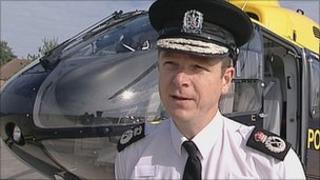 The recent civil unrest cost Hampshire police hundreds of thousands of pounds, according to the chief constable.
Alex Marshall revealed putting extra officers on patrol and helping police in London would cost "between £300,000 and £400,000".
He said: "My instructions were clear, we would deal robustly with anything that emerged."
Although there was no disorder in Hampshire, six arrests were made for inciting riots on social media.
Monitoring social media
At the height of the riots in London, 50 officers from Hampshire were sent to the capital following requests from the Metropolitan Police. Twenty five are still working with the Met.
Mr Marshall said that 120 special constables had backed up the regular force in Hampshire over the weekend of 13 and 14 August.
Speaking on a BBC phone-in, Mr Marshall also said he would be "interested" in suggestions for limited curfews and restricting social media in times of disorder.
He said: "I think it should be looked at. If [social networks] could be turned off or restricted in a local area for a period of time, that would be very useful, within the law."
He added that social media had played a positive role during the recent disturbances when the Hampshire force monitored Twitter, Facebook and Blackberry Messenger to dispel rumours and issue warnings over messages about potential disorder.
'Counter rumour'
"It is a great way of communicating with a lot of people instantly who might otherwise have got involved in this.
"We were instantly able to counter rumour and myth and seek out those people trying to incite riot and violence," he added.
A former head of public order training with the Met, Mr Marshall paid tribute to colleagues who had to deal with riots.
He said:" The police in many parts of the country had to react to new circumstances and brought the situation under control, adapting their tactics as quickly as could be expected."