Knife recovered after man stabbed in Southampton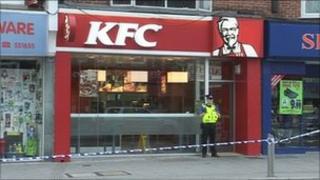 A man has been taken to hospital after being stabbed in Southampton.
Police were called to Portswood Road, Portswood, at about 16:00 BST following initial reports that a 28-year-old had been stabbed outside a KFC restaurant.
A knife, believed to have been used in the incident, was recovered from the scene.
Police said the injured man was taken to Southampton General Hospital where he was expected to undergo emergency surgery for life-threatening injuries.
Officers trying to piece together what happened said they understood the injured man had been stabbed in Vanguard Road, Midanbury, before driving to Portswood.
Part of the pavement in Portswood Road and part of Vanguard Road were cordoned off while police investigated.