Southampton FC review after disorder at Millwall match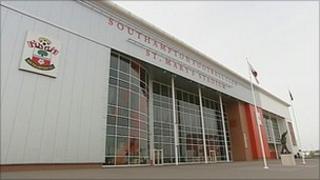 Southampton FC is reviewing post-match crowd procedures following disturbances at St Mary's stadium on Saturday.
Three Millwall supporters were arrested in the north car park after the match, and one later in the city centre.
The club statement said it would consider closing the north car park on future matchdays.
It said: "It often causes issues with home supporters, however safety is of course paramount and if it is deemed necessary then it will be enforced."
Six away supporters and one Southampton supporter were ejected for breaching ground regulations during the Championship match.
Temporary netting in the Northam stand was breached by a surge of "volatile Millwall fans" when Southampton scored after 18 minutes. The permanent segregation netting between fans was not breached.
The club statement, issued following discussions with the police, said: "Southampton Football Club will assist Hampshire Police with evidence to follow up this incident with further arrests that we hope will lead to Football Banning Orders."