Protests over bad smells at Eastney Pumping Station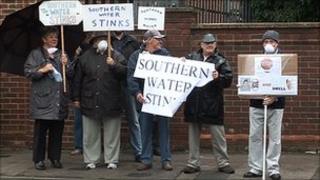 Residents have protested against what they claim are ongoing bad smells near a Portsmouth sewage plant.
About 30 people, some wearing face masks, demonstrated at Eastney Pumping Station in Henderson Road.
Resident John Stevenson said: "It's disrupted our lives. We can't open our windows or sit in our gardens."
Southern Water said it had taken measures including installing an odour suppressant system and operating a "closed door policy" to contain odours.
The firm said: "We have invested heavily in the site to ensure it is working as effectively as possible, while easing the impact on residents".
'Sewer from hell'
But campaigners claimed doors had been left open, exacerbating the problem of smells.
Mr Stevenson said: "It smells like the sewer from hell. They have the technology to control it but they don't use those facilities."
Southern Water's wastewater manager Stewart Garrett said: "This is a priority for us, however, Eastney is a complex site and work can't be completed overnight. We'd like to thank customers for their patience while we carry out these improvements."
The firm also said the planned £20 million scheme to divert rainwater from the sewers in parts of Portsmouth would ease pressure on the Eastney facility during storms.