Royal Marine 'fatigued' before accident in Solent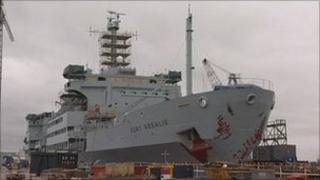 A "fatigued" Royal Marine died after falling from a ship during a military exercise, an inquest has heard.
Sgt Andrew Pearson, 37, was taking part in an exercise to board a moving ship in the Solent, off Portsmouth, during darkness on 27 January 2010.
The inquest at Portsmouth heard that Sgt Pearson fell as he tried to climb a ladder suspended from RFA Fort Rosalie.
He began choking on his utility vest, which was attached to a safety cord, before falling in the sea.
He was picked out of the water by the crew of a rubber inflatable boat (Rib) which had been transporting the marines to the ship and was airlifted to the Queen Alexandra Hospital in Portsmouth by a Royal Navy Sea King helicopter. He was pronounced dead at 00:50 GMT.
'Gasping for breath'
Det Sgt Stephen Spencer of Hampshire Constabulary, who investigated the death, told the hearing that the soldier appeared to make a final push to get to the top of the ladder and as he fell away, became suspended in mid air by the safety line.
He said he "began choking and gasping for breath". A subsequent examination of Sgt Pearson's jacket showed he had only attached one of two crotch straps which are designed to stop it from rising up the body.
Mr Spencer said it was not unusual for marines to fall from the ship during the exercise and another had done so earlier that night.
Another soldier who carried out a reconstruction of the effects of being suspended by the jacket without the appropriate straps told the court: "It was horrendous, my whole neck was restricted by the cache jacket riding up."
Dr Basil Purdue, Home Office pathologist, said that a post-mortem examination showed that Sgt Pearson died as a combination of his breathing having been restricted, a fall from a height and drowning.
He said: "These three factors have added up to this fatal insult to his body."
The hearing continues.