Blind fundraiser, Colin McArthur rides motorbike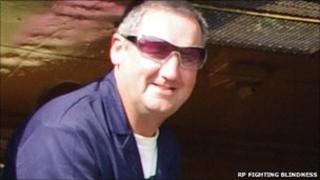 A 60-year-old blind man has ridden a motorbike around Smallbrook speedway track on the Isle of Wight.
Colin McArthur, from Sandown carried out the challenge on his friend Dave Richmond's 1979 Suzuki GS 850.
He rode the bike with sidecar around the oval track at about 20mph (32km) guided by Mr Richmond who rode pillion on the bike giving instructions.
Mr McArthur, who had never ridden a motorbike before, raised more than £500 for the RP Fighting Blindness charity.
He said: "I had to think of a lot of things at the same time, controlling the throttle was hard so I went a bit too fast at the beginning and I was screamed at to slow down."
Cheered on
His lap took place during the interval of the track meeting of the Isle of Wight Islanders and the Newport Hornets with the Islanders team's chairman Brian Ginders in the sidecar.
The father of five was watched by a crowd of over 400 who cheered him on to make a second lap.
Mr McArthur lost his sight to retinitis pigmentosa (RP) a genetic condition more than 20 years ago.
The eye condition is caused by defective genes which switch off the cells in the retina and can lead to total blindness.
The event was to raise money for a research project which is trying to discover whether stem-cells from the iris and cornea can be re-grown in the retina to restore the sight of people with retinitis pigmentosa.
Mr McArthur has taken part in a number of charity events since 2007 including controlling a 130-seat hovercraft, flying a plane and piloting a £3m passenger catamaran which have raised about £25,000.