Hampshire fire service concern over horsebox rescues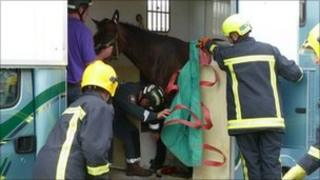 Concerns have been raised over the safety of rear-facing horseboxes after a rise in the number of Hampshire Fire and Rescue Service call-outs.
Crews had to free a five-year-old mare at Sparsholt College Equine Centre near Winchester after it became trapped in the day accommodation area on Sunday.
It had to be heavily sedated while crews cut away the fixed partition.
The service said having large animals trapped in small compartments puts crews in danger as well as the animals.
The 15.2 hands Oldenburg mare was guided out of the horsebox unharmed.
Anton Phillips, animal rescue specialist watch manager, said: "We were lucky to have the immediate services of local vets so the animal could be sedated and quickly released.
"We have concerns as we are being mobilised to a disproportionate number of incidents involving this design of horsebox where the horse is getting trapped in this way.
"Having a large animal trapped in such a small compartment presents serious dangers to the horse and fire crews."
Manufacturer help
In a rear-facing horse box or lorry, the horse is travelling backwards, while in a front-facing box they travel forwards. Problems have occurred when horses have tried to jump over the bar in front of them to get out.
Sheila Hardy, senior safety executive with the British Horse Society (BHS), said reports to the BHS suggested there were more problems with rear-facing horse boxes.
She said: "We don't know why that is but it appears to happen more when you have just one horse left in there. Perhaps two have been travelling together and one is removed and the other gets agitated.
"Often [an incident of a horse being trapped] occurs when something else has happened, perhaps they've had to brake suddenly."
Some people have contacted the manufacturer to have a grid installed to prevent the horse from trying to get over the bar, she said.