Original Queen Mary steamer still on sale after auction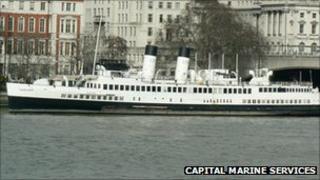 A 1930s steam ship that gave its name to the ocean liner Queen Mary failed to find a buyer in an online auction.
The turbine steamer was built on the Clyde in 1933 but its owners later relinquished its name to Cunard.
Cunard's famous Queen Mary went on to sail the Southampton-New York route and the steamer became TS Queen Mary 2.
Richard Lane, of Capital Marine Services on the Isle of Wight, said: "We are hopeful of finding a buyer in the next week or so".
Mr Lane said there was interest in the vessel from business groups, private individuals and preservationists around the world.
"It certainly grabbed the imagination," he said.
The steamer, which was retired in 1977, is currently moored in Tilbury Docks, London.
It is believed to be the only surviving example of the Clyde turbine steamer class of vessels.
The online auction on Wednesday had a guide price of £150,000 to £200,000.