Royal Marine's death after Solent fall was 'accident'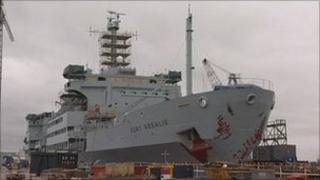 A Royal Marine who fell from a ship on a military exercise died as a result of an accident, a jury has concluded.
Sgt Andrew Pearson, 37, from Devon, had been taking part in a night exercise in the Solent on 27 January 2010.
He fell as he tried to climb a ladder suspended from RFA Fort Rosalie and began choking on his utility vest, which was attached to a safety cord.
The jury of five women and four men recorded a verdict of accidental death at the inquest in Portsmouth.
Earlier the coroner's court heard that Sgt Pearson became "fatigued" before falling in the sea.
A colleague had attached a safety cord to his vest but, as he fell away, the vest rode up his body and began to choke him as he was suspended in mid air.
The line was cut and Sgt Pearson fell into the water.
He was airlifted to the Queen Alexandra Hospital in Portsmouth but was pronounced dead at 00:50 GMT.
A subsequent examination of Sgt Pearson's jacket showed he had only attached one of two crotch straps which are designed to stop it from rising up the body.
'Courageous and dedicated'
Dr Basil Purdue, Home Office pathologist, said that a post-mortem examination showed that Sgt Pearson died as a combination of his breathing having been restricted, a fall from a height and drowning.
The officer in charge of safety on the ship said changes had been made following a review of the incident, including supervisors and instructors checking the leg straps on utility vests.
After the verdict, Portsmouth coroner David Horsley said: "I am sure that all the members of the jury will join with me in expressing our sympathy and condolences to all Andrew's family on his sad and unfortunate death.
"Andrew was a courageous and dedicated marine who died in the service of his country and that is a fact all of his family can be very, very proud of."
After the hearing, an MoD spokeswoman said: "Sgt Andy Pearson was an experienced and talented Royal Marine who tragically died in a training exercise doing the job he loved.
"Our thoughts at this very difficult time are with his family and particularly with his young sons."