Son battled to save cross-Channel yacht race father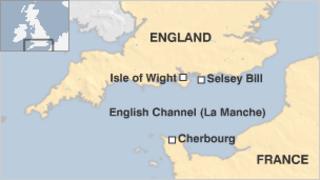 A man has told how he battled to save his father who had fallen overboard during the cross-Channel Morgan Cup Race from the Isle of Wight to France.
Christopher Reddish, 46, of Clapham Junction, south London, drowned when he fell from the 38ft (11.5m) yacht Lion.
His son, Alexander, 21, spoke at an inquest into the June incident.
Recording a verdict of accidental death, West Sussex Deputy Coroner Martin Milward said the crew had made "valiant attempts" to save his father.
Mr Reddish senior went overboard when the yacht was about 10 miles (16km) off Selsey Bill.
'Man overboard'
Mr Reddish junior told the hearing waves were continually going over his father's head and he kept getting knocked against the side of the boat.
The father-of-one, who was a former lieutenant commander in the Royal Navy, had been trying to recover a sail which was dragging in the water just after midnight on 18 June, as the vessel was about 20 miles (32km) south-east of the Isle of Wight.
Mr Reddish junior said: "I heard a shout of man overboard. I immediately stood up, looked up and realised it was my father that had gone overboard, so then I just ran up to the front of the boat to try and recover him."
The crew eventually winched him on board, where he was declared dead by a doctor.
Sebastian Edmonds, technical manager at the Royal Yachting Association (RYA), told Chichester Magistrates' Court he felt the team had followed safety legislation.
Mr Milward said: "Generally we have to accept the fact that sailing, and in particular racing, is not without risk."