Itchen Bridge in Southampton to get power-saving lights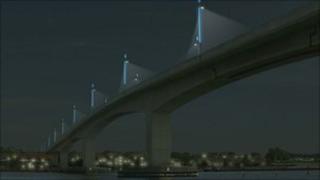 Energy-efficient white street lights have been installed on Southampton's Itchen Bridge.
The work is part of a 25-year private finance initiative (PFI) deal to switch more than half the city's lamps, signs and bollards to energy-saving lights.
The council said it expected the lighting to be 20% more efficient, save £1,250 a year and create an "impressive gateway" to the city.
The white lighting has been fitted to 34 new columns along the bridge.
Blue LED lighting has also been installed in the columns to make the bridge a "beacon in the city", the council said.
'Save money'
The work is part of a £28.5m PFI contract to change lighting across the city.
According to Conservative councillor Daniel Fitzhenry, the replacement lights will save money, cut carbon emissions and "install pride in residents".
The new white lights will bring many benefits including improved visibility, safety and enhanced CCTV images on the two-lane bridge, which stands 24m above the River Itchen, the council said.
The council said it would be able to remotely monitor the new lighting system allowing it to constantly stay on top of energy consumption.
It hopes to make an energy saving of 17% for street lights after the first five years.