Woman attacked after man carjacked in Hampshire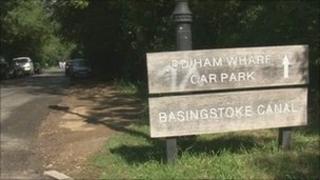 A woman has been attacked by a man in a vehicle after it was stolen hours earlier in a violent carjacking.
The 19-year-old woman met the man in Basingstoke on Friday evening and accepted a lift in the Peugeot car, where he assaulted her.
Earlier, a 73-year-old man had his Peugeot stolen when he stopped to pick up a man who said he had sprained his ankle at Odiham Wharf, Odiham.
He was directed to a country lane where he was dragged from the car and kicked.
The attacker punched him and drove off. The 73-year-old was taken to hospital where he was said to be recovering.
The woman managed to escape from the car and raised the alarm.
Detectives are looking for a blue Peugeot 206 with the number plate LV56 FCA.
The attacker is described as white and wearing a black hooded top, possibly a Nike brand or a waterproof.
Officers said members of the public should not approach him but call the non-emergency 101 number, or 999 if urgent.