Isle of Wight wind turbine plan appeal rejected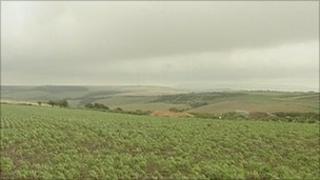 Campaigners have welcomed a planning inspector's decision to reject proposals for three large wind turbines on the Isle of Wight.
REG Windpower wanted to build the 125m (410ft) structures on Cheverton Down.
The renewable energy company appealed against the council's decision in 2009 to reject the plans but the refusal was upheld by the Planning Inspectorate.
The firm already has permission to erect three smaller 52m (171ft) turbines on the site.
REG Windpower said it was "extremely disappointed" and would decide in due course how to proceed with its plans for Cheverton Down.
'Benefits jeopardised'
Stuart Hutchinson, from campaign group The Wight Against Rural Turbines (ThWART), said: "We are delighted that the inspector has supported Isle of Wight Council's decision in 2009 to refuse planning permission for this hugely damaging project.
"As we said when the planning application was refused, the size of the turbines would blight the historic landscape for miles around, putting our valuable tourist industry at substantial risk.
"They would have threatened the enjoyment of walkers and horse riders on trails and pathways alongside the site and far beyond."
Matt Olley, development manager for REG Windpower, formerly Cornwall Light and Power, said: "Along with the project's many local supporters, we are extremely disappointed with this decision.
"Not only could the 9MW wind farm have spearheaded the fight against dangerous climate change on the island, but a significant sum would have been available to support local good causes through a community fund.
"Additionally we were committed to working closely with Vestas and anticipated that their innovative research and development facility at West Medina Mills would have played a crucial role in delivering the equipment to be installed at Cheverton Down.
"Regrettably these substantial benefits to the island have been seriously jeopardised.
"While we are currently still digesting the decision and it is far too early to say what our next steps might be with this project."