British soldier's death from gunshot wound 'unlawful'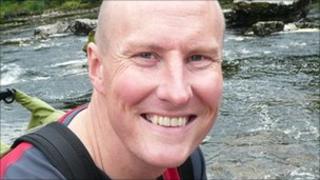 A Territorial Army soldier was shot dead in Afghanistan as he prepared to defuse an improvised explosive device (IED), an inquest has heard.
Sapper William Blanchard, 39, of 101 (City of London) Engineer Regiment, was killed by a high velocity single round that missed his body armour.
The father-of-two from Hampshire was only on his second defusing job, the inquest in Portsmouth heard.
His death on 30 October, last year, was recorded as unlawful killing.
Sapper Blanchard was serving with the Counter-Improvised Explosive Device Task Force and was attending the scene of a suspect device in Helmand Province that had not detonated when he died, the inquest heard.
'360 degrees firefight'
Lance Corporal Tony Field who was working with Sapper Blanchard told the inquest he heard "a crack, a whizz and a thud" close by.
"I turned to look and Will was falling back. I rushed to help him. He was moaning and gasping and he managed to say 'underneath'," he explained.
Medics found a gunshot wound that had entered the hem of his body armour on the left upper shoulder and exited under his right armpit.
The hearing heard medics tried to help Sapper Blanchard while under intense fire from insurgents.
Combat medic Lance Corporal Francis Ward from the Irish Guards said: "The day was just horrible. I cannot explain what a bad day that was."
Another guardsman, Lance Corporal Wayne Golding, described his unit as being in a "360 degrees firefight".
The inquest heard that Sapper Blanchard was wearing the latest body armour and it was correctly worn.
Portsmouth Coroner David Horsley said Sapper Blanchard was doing "a hero's job"
"He was hit in a location that no body armour could or ever would be able to cover," he said.
Sapper Blanchard was a Ministry of Defence radiation protection officer by profession and a science graduate. He had been in Afghanistan for six weeks.
He leaves behind his widow Suzanne, who attended the inquest with other family members, and his son, Tom, and daughter, Lucy.
His funeral was held at Portsmouth's Anglican Cathedral, where the sermon was delivered by his father, the Rev Canon Laurie Blanchard, who is the canon of Ely Cathedral in Cambridgeshire.
Sapper Blanchard was also a scout leader with the Warsash Sea Scout Group, based in Southampton.