Deaf children's support in Southampton criticised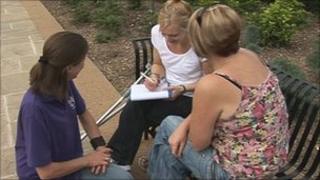 Educational support for deaf children in Southampton has been criticised by a charity.
The National Deaf Children's Society said the city currently had the worst level of school back-up for deaf children in England.
Southampton City Council said it had increased resources for deaf children in mainstream education.
Parent Tracey Petitt said the service "helped us get to grips with what deafness means".
The National Deaf Children's Society is currently involved in a campaign across the country to oppose cuts to educational services for deaf children.
'Quality service'
It said Southampton had the equivalent of one specialist teacher for 150 children, below the national average of one to every 43 pupils.
The specialist staff also provide training to regular teachers on having a deaf child in their class.
Parents of deaf children in Southampton are hoping to gain enough petition signatures to force a council debate on the issue.
Councillor Jeremy Moulton, Southampton City Council's cabinet member for children's services, said: "The city council is committed to providing a quality service which meets the needs of children in Southampton.
"Despite the difficult financial situation the council faces, we have protected this important service and in fact have put more resources in."
He questioned some of the figures in the charity's survey and said he had invited a representative of the charity to a meeting to discuss the service.