Rolling Stones' Keith Richards 'helps radio station'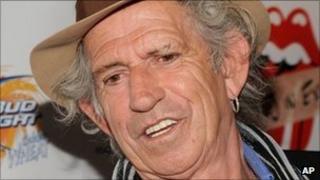 An Isle of Wight radio station has claimed a donation from Rolling Stones guitarist Keith Richards helped get it back on air.
Angel Radio broadcast a plea for help to pay for a £2,000 transmitter for its Newport operation after it was damaged in a storm in July.
Station director Bev Webster said after the broadcast a cheque for £3,000 arrived from the Sussex musician.
The island station relies heavily on listener donations.
The plea for help was also broadcast on Angel's commercial sister station, based in Havant.
Mr Richards has a house in the Witterings area of West Sussex, in the station's broadcast area, but it is not known whether the 67-year-old had been listening to the broadcast.
The cheque, which the station said was sent from Mr Richards' accountant in London, arrived along with scores of other donations from listeners.
Ms Webster said: "I opened the envelope and nearly had a heart attack. It said it was a donation from Keith Richards.
"We looked at one another and said, 'could it be the Keith Richards? Is there any other Keith Richards?'."
Ms Webster said she wrote a letter of thanks after confirming with the accountant that the cheque was from the Rolling Stones guitarist.
Station manager Tony Smith said the extra money would pay for radio licences.
He said: "It's always a struggle. My Havant station can take advertising but the Isle of Wight isn't allowed to because of Ofcom rules so they rely on donations."
Angel Radio, which plays nostalgic music from 1900 to 1959, began broadcasting as a pirate station in 1993.