Hundreds sign petition to bring back teacher of the deaf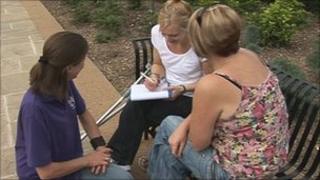 Parents of deaf children in Southampton have collected 1,500 names on a petition calling for the reintroduction of a part-time teacher of the deaf.
Southampton City Council will debate planned cuts to visiting teachers of the deaf on 14 September.
Parents of deaf children, supported by the National Deaf Children's Society (NDCS), will attend the debate.
The council said it welcomed the chance to "advise them of the service we provide and to hear their views".
NDCS said the city currently has the worst level of school back-up for deaf children in England.
Vital service
Jo Campion, of the NDCS, said: "The success of this petition shows that urgent action is needed."
She added: "Deaf children in Southampton face the worst level of specialist support we have seen in this country and it is absolutely vital that the city's council reverse the cut."
Tracey Pettit, whose nine-year-old son William is deaf, said: "We are overwhelmed at the level of support that residents of Southampton have given our petition to save services for deaf children.
"It shows how much everyone cares about the right of deaf children to thrive in school and beyond."
Deaf children and their families in Southampton faced poor support before the council made its latest cut as one post was frozen last year due to budget constraints, the NDCS said.
There are now two part-time specialists in the city, working the equivalent of one full-time post between them to support 165 deaf children.
The charity is currently involved in a campaign across the country to oppose cuts to educational services for deaf children.
Southampton City Council said it had increased resources for deaf children in mainstream education.
Councillor Jeremy Moulton, the city council's cabinet member for Children's Services, said there had been "no cut to service this year and we actually have plans to increase provision in the new school year and every deaf child that is entitled to help will receive it.
"This debate will help show our commitment to the quality of service that the council provides to all children with hearing impairments - which is above and beyond that of many other councils," he added.