Winchester Cathedral marks 9/11 10th anniversary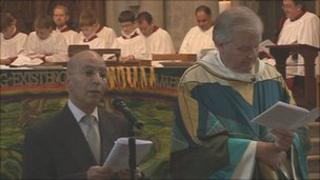 Worshippers in Hampshire have held a remembrance service on the 10th anniversary of the 9/11 terrorist attacks.
A minute's silence was held at Winchester Cathedral and a candle was lit to burn throughout the day.
Muslim representative Samir Dimachkie also read a prayer for peace.
The Very Reverend James Atwell said: "From those raw events looking into the abyss has got to come a candle of hope."