Manchester United ticket theft victims guests at Aldershot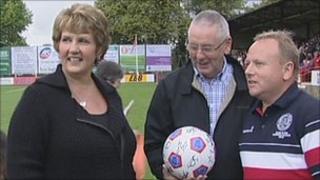 Two Manchester United fans who had their tickets to the Champions League final stolen have been guests of honour at a League Two match in Hampshire.
Aldershot Town fans invited Tom and Sue Clare from Manchester to Saturday's match against AFC Wimbledon.
A club official had met the couple after they had been pick-pocketed while queuing at Wembley Stadium in May.
Mrs Clare said: "We were gutted but the response from real football fans at grassroots level has been fantastic."
The couple met Aldershot's match day announcer Mark Taylor in a pub shortly after they had been robbed of their tickets to the final against Barcelona on 28 May.
He started a campaign among Aldershot fans to help compensate the Clares. The fans raised £300 to bring the couple to the match on Saturday and presented them with a signed ball, while a local hotel provided their accommodation.
Mr Clare said: "We can feel the atmosphere here rather than the corporate atmosphere we sometimes have at Man United, although we love it there. This has a feeling of real football."
Mr Taylor said: "It puts humanity back in football, the fans' response has been fantastic. We might not be a champagne club but we've got a champagne heart."