Portsmouth City Council 'may cut staff pay'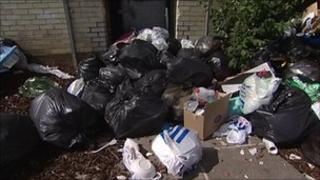 Portsmouth City Council has said it is considering a pay cut for its staff to save money.
Gerald Vernon-Jackson, leader of the council, said no decision had been made and several options were being considered.
The council needs to save £2m from its wage bill next year and the plans will be discussed at a private meeting of the employment committee on Tuesday.
The Unison union urged the council to rethink its plans.
It has proposed an "improved" voluntary redundancy scheme instead and said it had indications many staff would be interested in such an offer.
'Misleading figure'
But Mr Vernon-Jackson said that was not an option as the council would then have have to replace staff or services would suffer.
He said if they cut pay, it meant they would have to cut far fewer jobs.
Unison has estimated that the cumulative effect of pay cuts, increment freeze and pension increases could mean staff could see a 10% drop in pay.
The city council rejected that figure, saying it was misleading because it took into account factors outside the council's control.
When neighbouring Southampton City Council decided to cut the salary of staff earning more than £17,500 by up to 5.5%, it led to months of strike action.
That dispute, which has seen piles of rubbish build up in the streets when refuse workers went on strike, is still ongoing.
An announcement is expected later this week from the Unite and Unison unions in Southampton about what further action they will take.