Raccoon caught in Hampshire conservatory nicknamed Bandit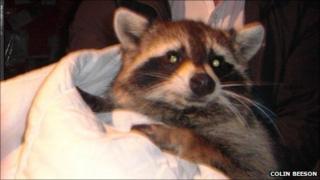 A raccoon has been caught in the conservatory of a Hampshire man's home.
Colin Beeson, 51, from Chandler's Ford, said it was the third time the animal had got into his conservatory via the cat flap.
He managed to catch it on Monday night in a towel with the help of his partner and her son, who blocked the cat flap.
The racoon has since been taken to RSPCA Stubbington Ark Animal Shelter in Fareham where staff have named it Bandit, because of its facial markings.
'Fair size'
Mr Beeson said he managed to keep the animal occupied with a tin of cat food that belonged to his cat Tilly.
He said: "Before being caught it was running madly around the conservatory.
"It took me two attempts to grab it and then put it in our secure lobby where it couldn't escape."
Mr Beeson, who was bitten by the animal during capture, described it as a "fair size".
He said: "Our cat is about 10lb and the raccoon was a lot heavier than that, maybe 20lb or so."
Vanessa Eden, from the animal shelter, said: "Bandit is still extremely stressed and we haven't been able to get it out of the box we collected it in yet.
"As soon as we get it out it will be checked by the onsite vet to make sure it's ok, if not then we will treat it here.
"If it's fine it will be kept for about seven days, until we trace the owner.
"We think it must be someone's pet."
The raccoon is thought to be the same creature that was spotted in a residential garden in Chandler's Ford in June.
Raccoons are nocturnal and native to North America but some have been seen in continental Europe after they were introduced deliberately or escaped from fur farms.