Portsmouth City Council 'will not cut staff pay'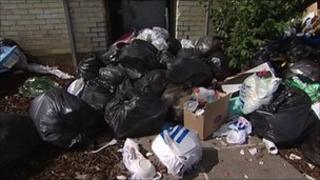 Council leaders in Portsmouth have ruled out a pay cut for staff as a way to save money.
They were considering the move but have decided to look at a two-year pay freeze instead.
It came after unions held a small demonstration during a council meeting to discuss the plan.
Gerald Vernon-Jackson, leader of the Lib Dem-led council, said a pay freeze for staff earning more than £21,000 a year will now be considered.
'Protecting jobs'
He added: "We have got a limited budget with cuts to our government grant, and we have to make sure the business of the council works and lives within that budget.
"Therefore we have got to find £8m of savings to stay within our budget.
"We want to make sure we protect jobs as much as we can, therefore we think it is worth looking at a pay freeze for people who earn more than £21,000 a year to help protect jobs.
"We have ruled out a pay cut for everybody."
Meanwhile, neighbouring Southampton City Council is still embroiled in a bitter dispute over its pay cut, which has caused months of strikes.
In July it introduced new contracts, which have forced workers earning more than £17,500 to take a pay cut of up to 5.5%.
The dispute saw piles of rubbish build up in the streets when refuse workers went on strike.
An announcement is expected later this week from the Unite and Unison unions in Southampton about what further action they will take.