Portsmouth Pyramids firm spent £200 at lap dance club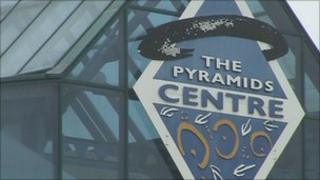 A firm which runs a leisure centre in Portsmouth has spent £200 on a night in a lap dancing club.
The entertainment was charged to a credit card owned by Southsea Community Leisure, which manages the Pyramids swimming and leisure centre.
However, the move has been criticised by the city council, which is loaning cash to the firm.
The firm said it would "vigorously defend the false allegations of fraud and wrongdoing with facts".
David Williams, the city council's chief executive, said it was understood the money was spent at the Elegance lap-dancing club in the city.
He said: "We have informed the directors of the company that we consider this to be inappropriate.
"They are, however, a private limited company and this is a matter for their internal procedures. None of the directors are city council employees or members."
The not-for-profit Southsea Community Leisure was awarded the contract to run the Pyramids Centre in July 2009 when the council could no longer afford to manage the complex.
As part of the deal, the council agreed to act as a guarantor and, in January this year, agreed a series of recommendations including loaning the company £1.3m by June 2012.
It is understood the night out at Elegance took place before the council had loaned any cash.
The credit card issue was raised by Conservative councillor Jim Fleming who has made a complaint to the local government ombudsman that the council has not dealt with the matter seriously enough.
Council leader Gerald Vernon-Jackson said he believed the company's contract with the council had not been breached.
In a statement, the company said it was not provided with funds from Portsmouth City Council until January 2011 and had not been given a chance to provide a "robust response" to the council.
"The information they have been provided with provides a partial picture which we will complete when they are able to find time to meet with us," it said.