Southampton and Isle of Wight councils plan to share services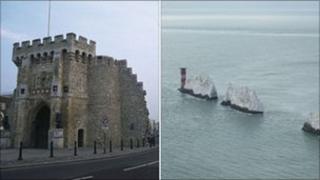 Two south coast councils are planning to share some staff and services in a bid to cut costs.
Southampton City and Isle of Wight councils plan to merge teams in areas including education support and environmental services.
No changes will be made until April 2012, the councils said.
Over the next four years, Southampton council has to save £76m and Isle of Wight £32m. Both are controlled by the Conservatives.
Royston Smith, leader of Southampton City Council, said talks had begun with the unions about the plans.
The news comes after Southampton council in July forced staff earning more than £17,500 to take a pay cut of up to 5.5%.
It is still embroiled in a bitter dispute over the pay cut, which has caused months of strikes.
The dispute saw piles of rubbish build up in the streets when refuse workers went on strike.
Announcing the new plans, the Mr Smith and David Pugh, leader of Isle of Wight Council, said residents should not notice any differences in services.
In a joint statement, they said: "By working together, sharing our expertise and combining our resources and purchasing power, we hope to be in a position to sustain the level and quality of services being enjoyed by residents and visitors whilst doing so more efficiently and at less cost to the taxpayer.
"We continue also to explore similar arrangements with other neighbouring authorities where the opportunities arise."