Malaria trial nurse guilty of Southampton sex attack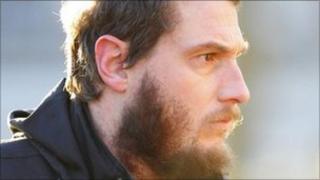 A male nurse who went missing while taking part in a malaria medical trial, sparking a police appeal, has been found guilty of sexual assault.
Matthew Lloyd, 36, from Southampton, was the subject of an appeal in October 2010 after he failed to turn up for an appointment in Oxford.
It was feared he would contract the deadly disease.
He was found guilty at Southampton Crown Court of attacking a woman as she walked home in the city in August 2010.
He was also found guilty of common assault.
At the time of his disappearance, Lloyd had been arrested over the attack but had not been charged. He was found in Holland, came back to the UK and did not contract the disease.
During the three-day trial, the victim, who cannot be named for legal reasons, said a smiling stranger grabbed her bottom hard as she walked in Southampton city centre.
She told the court: "First he grabbed my bottom. It was quite painful (and) I got scared. My first thought was 'I am going to be raped?'.
"I didn't know how to react. Then he turned me around, so I was face to face with him.
"He started touching me all over my body, trying to pull my clothes off."
The woman said she pressed her fingers into his windpipe to try to fight off him off as he continued to sexually assault her.
She told the jury that the only words he spoke were: "How are you doing?"
After she escaped she tried to catch up with a man she saw walking ahead of her but discovered it was Lloyd who tried to attack her again.
She managed to escape and went home.
She told jurors: "Both times he was smiling. He enjoyed me being in fear."
The court heard that she called the police the same day and picked Lloyd out of identification photographs but he denied to police that he was responsible for the attack.
CCTV footage also showed that Lloyd had been at the scene.
The jury heard that Lloyd was suffering from mental health problems. He had also been working at Southampton General Hospital in the infectious disease ward.
Judge Susan Evan QC granted him bail on the condition that he stayed at a psychiatric unit.
He will be sentenced at a later date.