Portsmouth bus driver attacked by two passengers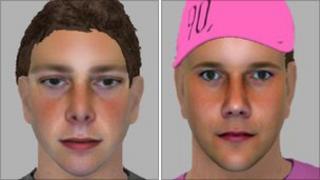 A bus driver suffered a fractured cheekbone when he was attacked by two passengers in Portsmouth.
The driver warned the men about their behaviour as they were swearing and disrupting other passengers.
The men left the bus at Allaway Avenue but as the driver started to drive away, they forced their way back on to the bus, kicking and punching him.
Hampshire Constabulary described the attack, carried out on 9 September at about 18:45 BST, as "despicable".
The men got off the bus after the attack and headed along Allaway Avenue, towards Nailsworth Road.
'Torrent of abuse'
They are described as being aged about 18, 5ft 7in (1.7m), of skinny build and with short brown hair.
They boarded the bus at Palmerston Road and both had paint on their clothing.
Det Con Chris Dinenage, of Hampshire Constabulary, said: "This was a despicable crime against a hard-working member of our community.
"The driver had to suffer a torrent of abuse throughout the journey and when he tried to stand his ground, the men attacked him. He has been left very shaken by this incident."
Anyone with information about the attack is asked to contact police.