A maternity unit in Hampshire reopens after gas leak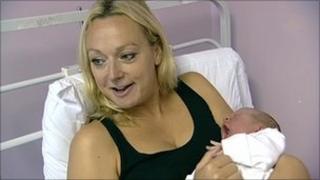 A maternity unit at a Hampshire hospital has reopened following a gas leak which led to some wards being evacuated and 38 patients moved.
The maternity unit and treatment centre were affected by the leak at the Royal Hampshire County Hospital, Winchester.
Twelve mothers and eight babies were among those moved during the leak, including one who was mid-birth.
The gas line was repaired five hours after the leak happened on Tuesday at about 12:00 BST.
Patients moved to other parts of the hospital on Tuesday were due to be moved back to Florence Portal House, which houses the maternity, breast surgery and gynaecology units, during the day.
An investigation into the leak is now under way, a hospital spokesman said.
Ambulances and women in labour had to be redirected to other hospitals.
Kerri-Ann Robinson, who gave birth to a baby boy, said: "I couldn't believe it - the midwife came in and said 'there's something we've got to tell you - it's not very good' and I thought 'what on earth...?'.
"It was like something out of Holby City - very hectic - but I did feel in safe hands.
"I nearly thought I was going to give birth in the lift and then the car park, but it was fine."
The rest of the hospital was not affected.
Winchester and Eastleigh Healthcare NHS Trust said Southern Gas Networks came to repair the leak.
By 16:00 BST, the source of the leak had been located and at 17:00 BST Southern Gas Networks said it had been repaired but its team would remain on site to monitor gas levels in the air.
The hospital's contingency plans remained in place overnight.
A spokesman said 12 new and expectant mothers and eight babies were moved to the hospital's main building.
No operations were interrupted by the incident, although eight patients were recovering from having surgery in the morning.
Chief executive Dr Chris Gordon said the leak was believed to have been caused by a pipe being broken during building work to refurbish the hospital's outpatient department.
He added: "It has been a very long time since we have had anything like this and I don't remember in the 15 years that I have have worked in this hospital having such a major internal incident."