Police search for 'vulnerable' Hampshire woman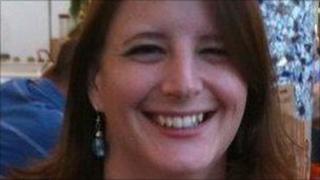 A team of detectives is searching for a woman from Hampshire who has been missing for more than a week.
Leanne Turnbull, 34, suffers from epilepsy and is not thought to have any medication on her, police said.
The last confirmed sighting of Ms Turnbull was in Alton, shortly after 09:00 on Wednesday 14 September.
Miss Turnbull lives in Stubbs Road, Basingstoke, but had been staying at her partner's house in Orchard Lane, Alton, before going missing.
A trace from her mobile phone showed her heading towards the Devil's Punchbowl at Hindhead in Surrey, but the signal died on 15 September.
Ms Turnbull's family have taken to the streets of Alton to hand out leaflets to passersby in a bid to turn up fresh leads.
'Desperate situation'
Her sister Janet Lionnet-Tregear said: "We're desperate after a week of having no information or leads on my sister's disappearance, despite police searching."
James Stringer, Leanne's cousin, said: "This is a desperate situation where family members are coming from all over the country but really, really encouragingly a lot of people from Alton have motivated themselves and got together to make an effort and desperately want to help the police and the family to try and find Leanne again."
A Hampshire Constabulary spokeswoman said: "Leanne has not gone missing before and we are treating her as vulnerable as she suffers from epilepsy and it's thought she does not have her medication on her.
"It is an ongoing investigation so we're still appealing for witnesses, or anyone with information about Leanne, to contact us."