E-fit released after Southampton girl abduction attempt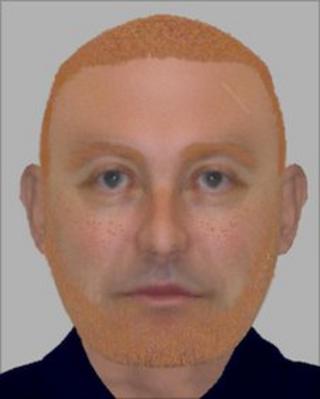 An e-fit has been released of a man suspected of trying to abduct a schoolgirl in Hampshire.
The 11-year-old was in Basset Crescent West in Southampton on Friday morning when a black car pulled up and a man in his late 40s asked her to get in.
He is described as having ginger, almost shaved hair, ginger stubble and eyebrows, and a scar on his forehead.
He was wearing a navy blue short-sleeved polo shirt and was wearing a silver watch.
He is thought to have been driving a black "sporty-looking" Jaguar or a similar car with a sandy-grey interior and slightly tinted rear windows.
Hampshire police are also hoping to trace the driver of a white car who may have spoken to the suspect shortly after the incident.
Officers carried out road checks on Monday morning, stopping motorists and pedestrians. They are also monitoring CCTV, carrying out extra patrols and house-to-house enquiries.