Aldershot Town FC rise from ashes to face Man Utd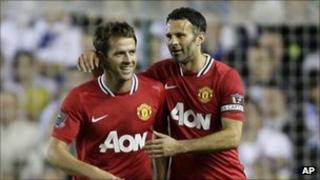 When Aldershot FC were wound-up at the High Court in 1992 amid mounting debts and unpaid wage bills many thought it was the end.
But supporters of the Hampshire outfit refused to see their team die and less than a month later a new club - Aldershot Town FC - rose from the ashes.
The Shots, with now only one player on their books, had to start again and that journey began in the Diadora Isthmain League Division 3 - five levels below the Football League.
But almost 20 years later, they have powered their way back into the upper leagues and continued their incredible rise on Saturday when the League Two side were drawn at home against one of the richest clubs in the world, Manchester United.
The two sides will meet in the fourth round of the Carling Cup on 25 October.
Chairman Kris Machala described it as "the best thing to happen to Aldershot in the last 40 years".
George Best
"In financial terms one of their players is probably worth more than our whole club," he added.
"But it is not all about money... we progressed from non-existence in 1992, we went through all the ranks in football to achieve football league status a few years ago and we are going forward.
"Maybe we can meet Manchester United again in the premiership [Premier League]... the sky is the limit so let's go for it."
The town is already abuzz with excitement about the visit of the Premier League champions with the club's phone lines jammed and website inundated over the weekend.
And the visit has rekindled memories of their tie in 1970 when more than 18,000 watched the likes of George Best, Bobby Charlton and Denis Law come from behind to win 3-1.
Tickets for the match at the Shots' EBB Stadium next month will go on sale once arrangements are finalised with the relevant parties, with season ticket holders the first in line.
But one man with a crucial job ahead of the tie is not getting carried away.
Groundsman Andy Nunn, a self-confessed United supporter, said: "We will just treat it as another game to be honest.
"Hopefully we'll get some good comments [about the ground] afterwards and hopefully Aldershot can win."