Leanne Turnbull disappearance: Police appeal to public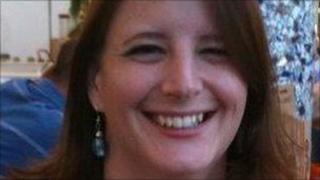 Police have been carrying out stop checks in Hampshire exactly two weeks after a woman disappeared.
Leanne Turnbull, 34, was last seen at 1st Gear Cycles bike shop in Alton, at about 09:15 BST on 14 September.
She suffers from epilepsy and is not thought to have any medication with her, police have said.
Officers have been stopping members of the public and handing out leaflets at three locations in the Alton area in a bid to jog people's memories.
'Desperate situation'
Miss Turnbull lives in Stubbs Road, Basingstoke, but had been staying at her partner's house in Orchard Lane, Alton, before going missing.
A trace from her mobile phone showed it heading towards the Devil's Punchbowl at Hindhead in Surrey, but the signal died on 15 September.
James Stringer, Leanne's cousin, said it was a "desperate situation", with family members coming from all over the country to join the search.
Acting Det Sgt Ewan Gardner said: "Leanne has now been missing for two weeks and we continue to appeal to the public to tell us any information they may have about her whereabouts.
"We hope that by conducting these stop checks it may jog someone's memory about what they may have seen two weeks ago."