Southern Water fined £25,000 for Southampton Water sewage spill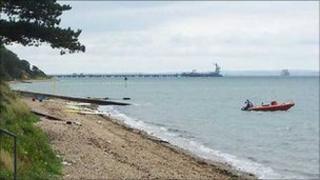 Southern Water has been fined £25,000 for a leak from its sewage treatment works at Woolston, Hampshire.
At its peak, 200 litres-per-second of unscreened sewage was discharged during 26 hours, in November 2009.
An Environment Agency investigation into the company's records showed untreated waste-water from the plant's storm outlet was spilt on 35 occasions over a 12 month period.
Judge Gary Burrell described the system as being on the "point of failure".
'Find a solution'
He said: "It's inadequate to deal with the level of population, something must be done."
He also urged all agencies to "get together to find a solution".
The spill forced the closure of commercial shell fish beds for a month, in the Itchen Estuary of Southampton Water.
The Environment Agency said 200 litres-per-second of sewage was discharged during the first four hours of the spill before the leak reduced in pressure.
An alarm had sounded indicating a blockage, which should have alerted an employee to deal with, but he did not attend, the court heard.
Investigations by the Environment Agency, which brought the case, revealed the spill was caused by a blockage by debris. It also discovered the plant's storm tanks were too small, resulting in frequent overflows of waste into the harbour.
The company, of Yeoman Road, Worthing, pleaded guilty to the offence, at Southampton Crown Court. It was also ordered to pay £5,467 in costs.
Graham Purvis, wastewater quality manager, said: "We are sorry these incidents have taken place as we take our environmental responsibilities seriously.
"We are committed to finding a solution to the problems at Woolston treatment works, which is very challenging because of the physical constraints at that location."