New strike in Southampton council pay dispute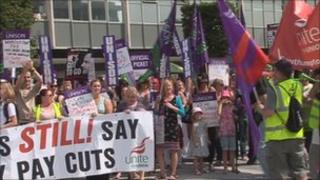 Southampton council workers, including refuse collectors and social care staff, are to stage a fresh strike in a long-running row with the authority.
Unite said its members would join Unison's social care staff in a day of action next Thursday.
The dispute is over the introduction of new contracts forcing council workers earning more than £17,500 to take a pay cut of up to 5.5%.
The council said it was "disappointing" and called on the unions to negotiate.
More than 1,000 workers, including parking wardens and street cleaners, are expected to walk out next week, Unite said.
'Crippling hit'
The unions have also questioned why the council is increasing its borrowing for projects like the new Sea City museum when salaries are being cut.
Ian Woodland, regional industrial officer for Unite, said: "Borrowing money is one way to combat the cuts, but if the council is levering in substantial sums yet failing to use these to secure jobs, communities and the very stability of our city, then what is this money for?"
Royston Smith, leader of the Conservative-led council, said: "If the council pulled the plug on projects like its Sea City attraction we would lose millions of pounds in external funding which is helping to pay for them.
"The city's economy would then take a crippling hit and thousands of jobs which would have been created in the economy, would be lost."
The strike will be the first since 12 weeks of industrial action over the summer.
It came after a new pay deal was rejected and workers had to accept new contracts or face dismissal.
In February, the council finalised budget cuts of £25m and announced plans to reduce the pay of workers earning more than £17,500.
Workers earning less than £17,500, which is 41% of the workforce, would receive an extra £250 a year.