Hampshire gritters out on hottest day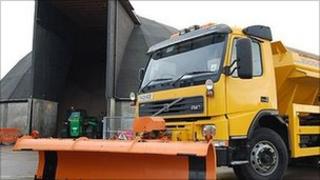 Drivers across Hampshire have been told not to panic if they see gritters on the roads on Saturday.
Weather forecaster have predicted it could be the hottest October day on record but salting trucks will be running on many of the county's roads.
The county council said its vehicles would be on trial runs to ensure equipment is working before the winter.
Drivers have been asked to park considerately in order to allow the gritters room to manoeuvre.
Last winter, Hampshire and the Isle of Wight was hit by heavy snowfall which caused extensive disruption.
Councillor Mel Kendal, member for transport at Hampshire County Council, said: "Temperatures at the moment are unusually high for this time of year so I can see that some people may be bemused that we will be having a test salting run tomorrow.
"Nonetheless people's safety is paramount and it is essential that we make sure everything is working properly before we have any ice or snow on our roads, particularly if we get the extreme conditions we had last winter and the one before.
"We experienced extreme conditions quite early on during last winter so doing this in October is reasonable."